We all know you want to skid your GY6 Ruckus like a BMX bike like you did when you were a kid, or you need stopping more stopping power with that big Bore kit. Well after lots of fitting and R&D we now offer a COMPLETE Rear Disc Brake kit for your Gy6 long case motors A and B cases. NO GRINDING CASE IS NEEDED. THESE ARE FOR 12×8 or 13×8 REAR WHEELS ONLY
Our Kit is the only complete kit with everything you need to get you going or shall we say stopping!
Kit includes:
Billet T-6061 Rear Hub with the following bolt patterns
4×110(m10x1.5)
4X90(M10X1.5)
Adelin 220mm floating Rotor with NCY titanium rotor bolts
Adelin 4 POT Brake Caliper (in either Black or Raw) with bleeder.
90" Stainless brake line
Custom Caliper Bracket made from T-6061 Billet (in either Black or Raw Aluminum)
2 x 90 degree Black or Chrome Goodrich Banjo fitting
1 x Black or Chrome Goodrich Banjo Fitting
All Stainless hardware and GY6 splined spacer
1 rear master cylinder with banjo bolt and washers (no lever or upgraded Adelin master cylinder available)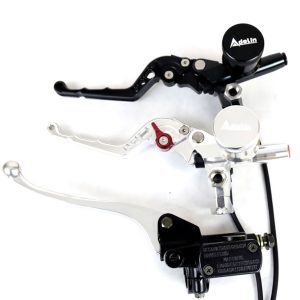 If you choose upgraded Adelin lever you must purchase Banjo Bolt either in black or chrome, See below related items.
Black kits will get Black Caliper, Black Bracket, Black Hub, and Black fittings. Silver will get Raw and Chrome parts. See pictures.