GOT BIG BORE GY6 MOTOR ? HAVE STATOR OR CRANK SEALS LEAK? We got the fix. Our Ultimate Crank Shaft Stabilizing plate work in conjunction with our Ultimate CVT cover. Our unique design fits inside the Ultimate CVT and used a trued CNC variator 22mm Shaft bolt that fits inside the support plate. This plate reduces Crank run-out and flexing on high horsepower Gy6 motor such as 232cc Taida or Bullock Racing motors. Performance Tested in Puerto Rico.
Works only with Our Ultimate CVT that has front and rear support plates as well.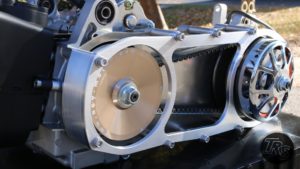 The plates come RAW, ready for you to paint, powder coat, or polish . Our Ultimate CVT cover comes in only 1 style at this time.  Each CVT cover comes with Stainless Steel Socket Cap Bolts & Stainless Washers.
 YOUTUBE INSTALL VIDEO
This product requires the removal of the stock kick start assembly! Be sure your electric starter is in good working orders. Fits both A and B Gy6 Long case.