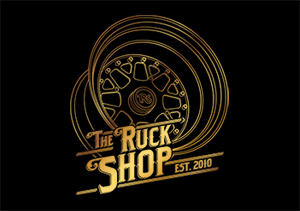 T25saW5lJTIwU3RvcmUlMjBIZWxw
How do I sign in to this site?
How do I sign out of this site?
What if I forgot my password?
How do I become a registered user for this site?
How do I add an item to my shopping cart?
How do I remove an item from my shopping cart?
How do I remove all of the products in my shopping cart?
Who can I contact if I have questions?
Is my credit card information secure through this site?
Can I update my account contact information?
Can I change my e-mail address and password?
Can I view my previous orders placed on this site?
Can I provide special instructions with my order?
To sign in to your customer account, click Sign In on the menu bar and enter your e-mail address and password. If you do not have an account, please click Register on the menu bar.
To sign out of your customer account, click Sign Out on the menu bar and you will return to the home page. If Sign Out does not appear on the menu bar, then you are not currently signed in to the site.
If you have forgotten your password, click Sign In on the menu bar to access the Sign In screen. At the bottom of the page, click on the Forgot your password? link. On the password retrieval page, you may enter your e-mail address, and then click Get Password. We will send your password to the e-mail address we have on file for your account.
Shipping & Delivery
At this time, THE RUCK SHOP ships merchandise to locations within the 48 Continital United States. U.S. Territories, Alaska, Hawaii, Puerto Rico, Guam,aPO, AEO, and the US Virgin Islands can purchase from us but will be required to pay for extra shipping even if the system allows the order to go through. The risk of loss and title for all merchandise ordered on this Web site pass to you when the merchandise is delivered to the shipping carrier. ALL ORDER ABOVE $279 ARE ELIGIBLE FOR FREE SHIPPING TO 48 US STATES ONLY. THE RUCK SHOP RESERVES THE RIGHT TO CHOOSE THE CARRIER FOR FREE SHIPPING. ALL ORDER OVER $300 WILL REQUIRE A SIGNATURE FOR YOUR SERCURITY. Orders will be shipped to paypal confirmed address or address on file with your credit card company.
UPS & FedEx Ground Transit Times
The time it takes for you to receive your package is the transit time. Transit times do not include the date of shipment and any other non-business days. For most shipments, the following map will show the approximate transit times for FedEx ground shipment. TheRuckshop.com is not liable for any exceptions to transit times applied by FedEx.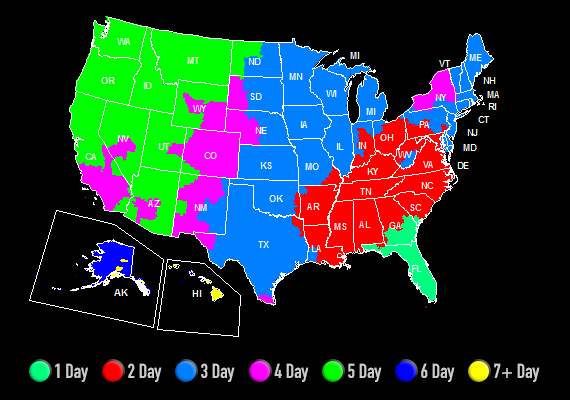 USPS Priority Transit Times
The time it takes for you receive your package is the transit time. Transit times do not include the date of shipment, Sundays or any official government holidays. For most shipments, the following map will show the approximate transit times for the United States Postal Service Priority shipping. We also offer USPS First Class mail for packages under 13 oz. which takes 7-10 business days and is not shown on the map below.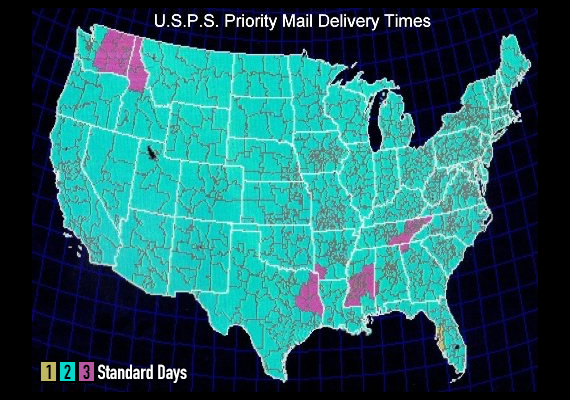 Provided all items ordered are in stock, most orders will ship out the same day if placed by 3:30 p.m. EST. Orders placed during the weekend or on a holiday will ship the next business day. The time it takes your order to arrive, after shipping, depends on the shipping method selected, as well as the destination. FedEx Next Day, 2nd Day, & 3rd Day air shipments are based on the date the order is fulfilled, not the date the order was placed. All FedEx shipping times (FedEx ground, FedEx Next day, FedEx 2nd day, & FedEx 3rd day) are based on Monday – Friday business days only. Weekends and holidays are not included. If you are in Florida and place an order before 3pm on a Friday please pick Fed Ex for Saturday Delivery at no extra charge. The ship time for US Postal Service Priority Mail is approximately 2-4 days after order is shipped depending on destination.
Please Note: All orders ship from our warehouse in Florida. Please notice the transit times on transit time maps above or refer to the FedEx or USPS websites.
Please Note: All orders refused at delivery for reasons other than Theruckshop.com error will be subject to a chargeback of actual freight charges.
TheRuckshop.com may be required to increase your shipping cost based on the dimensional weight of your order. Dimensional weight reflects package density, which is the amount of the space a package occupies in relation to its actual weight. Dimensional weight may apply to all FedEx and USPS domestic and international package services (i.e. bulky/large items may cost extra).
INTERATIONAL ORDERS please email us at info@theruckshop.com a list of the products you wish to get and we will get you a shipping quote.
Customs and import duties may be applied to International orders when the shipment reaches its destination. Such charges are the responsibility of the recipient of your order and vary from country to country. Contact your local customs office for details.
Shipping laws are different in each country. It is your responsibility to check with your Customs office to verify whether the country to which you are shipping permits the shipment of your products. THE RUCK SHOP is not responsible for any direct, indirect, punitive, or consequential damages that arise from improper international shipping practices.
Any international order should have payment made via Paypal (only in Select Countries Under $200 Value) Western Union or bank wire transfer. International orders paid with a credit card will be sent back to the customer requesting a new, approved form of payment.
If you have any questions or need further information regarding our international shipments/policies, please do not hesitate to contact one of our customer service representatives at
1-813-355-4828 (M-F 8:00 am – 4:00 pm EST) or
you can send an email to info@theruckshop.com
SPEC CYCLES INC. DBA THE RUCK SHOP (TRS) accessories are for show only, not for road use. Purchaser assumes responsibility for all risk or injury to others and self. Each participate must assume responsibility to assess safety aspects of facilities, conditions and equipment and must assume all risks. CAUTION USE AT YOUR OWN RISK. All products are for Off-Road Use Only. Spec Cycles Inc. DBA The Ruck Shop is not responsible and/or liable for any and all injuries and/or wroingful death from use of products. Purchasers assume any/all responsibilites for ultilization and/or modification to product and/or vehicle.
The Content included in this Web site has been compiled from a variety of sources and is subject to change without notice as are any products, programs, offerings, or technical information described in this Web site. THE RUCK SHOP makes no representation or warranty whatsoever regarding the completeness, quality, or adequacy of the Web site or Content, or the suitability, functionality, or operation of this Web site or its Content. By using this Web site, you assume the risk that the Content on this Web site may be inaccurate, incomplete, offensive, or may not meet your needs and requirements. THE RUCK SHOP SPECIFICALLY DISCLAIMS ALL WARRANTIES, EXPRESS OR IMPLIED, INCLUDING WITHOUT LIMITATION THE WARRANTIES OF MERCHANTABILITY, FITNESS FOR A PARTICULAR PURPOSE, AND NONINFRINGEMENT WITH RESPECT TO THESE WEB PAGES AND CONTENT. IN NO EVENT WILL THE RUCK SHOP BE LIABLE FOR ANY SPECIAL, INDIRECT, INCIDENTAL, OR CONSEQUENTIAL DAMAGES EVEN IF COMPANY HAS BEEN ADVISED OF THE POSSIBILITY OF SUCH DAMAGES.
— OR Depending on State —
The information and content on this server is provided "as is" with no warranty of any kind, either express or implied, including but not limited to the implied warranties of merchantability, fitness for a particular purpose, and non-infringement. Any warranty that is provided in connection with any of the products and services described on this Web site is provided by the advertiser or manufacturer only, and not by THE RUCK SHOP.
The references and descriptions of products or services within the Web site materials are provided "as is" without any warranty of any kind, either express or implied. THE RUCK SHOP is not liable for any damages, including any consequential damages, of any kind that may result to the user from the use of the materials on this Web site or of any of the products or services described hereon.
The descriptions of, and references to, products, services and companies on this Web site are the sole responsibility of the companies providing the information ("advertisers"), and not THE RUCK SHOP.
The inclusion of material on this server does not imply any endorsement by THE RUCK SHOP, which makes no warranty of any kind with respect to the subject matter of the server materials advertised.
A possibility exists that the server materials could include inaccuracies or errors. Additionally, a possibility exists that unauthorized additions, deletions, and alterations could be made by third parties to the server materials. Although THE RUCK SHOP tries to ensure the integrity and the accurateness of the server materials, it makes no guarantees about their correctness or accuracy. Before relying on any representation made in any of the server materials, check with the advertiser of the product or service to ensure that the information you are relying upon is correct.
THE RUCK SHOP reserves the right to change its return procedures at any time without prior notice to you. THE RUCK SHOP will only offer refunds on products returned in NEW never used condition at our discretion. A 10% restock FEE will be assessed on ALL returns and must have prior approval by emailing us at info@theruckshop.com within 10 calendar days of recieving the part. Once we receive the return you will receive a credit towards our online store. NO ACCEPTIONS. If you do not get a RMA and send product back you will not get a credit and would have to pay the postage to get the item back.
THE RUCK SHOP will not accept returns for used, installed or electronic parts under any circumstances. A 20% restocking fee will be assessed on all open packages.
If a part was ordered in error and the error is yours you will also be responsible for all shipping costs to THE RUCK SHOP and our original shipping costs to you. If we make an error all shipping costs will be paid for by THE RUCK SHOP using shipping company of our choice.
THE RUCK SHOP is open Mon-Fri 8-4pm eastern time.