The Vapor speedometer/tachometer is a popular choice for both on and off-road enthusiasts. Vapor's large digital tachometer bar graph is easy to read. At a small size of 4.2 x 2.3 inches, Vapor is perfect for all types of riding like cross country, trail riding or at the track. The main features include a large RPM graph and speed readout, with much more data built in. At the top, programmable LED lights blink when it's time to shift gears or during an over-temp event.  Only ours come with a 48″ extension for temp cable that we provide at NO CHARGE.  
Vapor can replace an entire instrument cluster on your dashboard. Vapor displays speed, tach, engine temperature, ambient temperature, re settable distance, clock, ride time, and odometer. Maximum values are displayed for temperature, speed, and RPM (reset trip data to start fresh max values.) Use the built-in stopwatch for race training, or re settable trip distance for Enduro courses.
Installation is straightforward. Use the detailed instructions to fit Vapor's sensors to the vehicle and plug them in using the white waterproof connectors. Customize and fine tune Vapor for tire size, tach sensitivity, and trigger temps for the temp and tach warning lights. Vapor can operate on regulated AC or 12V DC electrical systems, meaning it works on almost everything.
This is how we mount the pick up unit on the aftermarket front disc brake forks.
See magnet glued to rotor rivet. below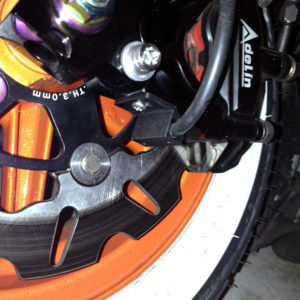 Looking for a CNC mount to work on your Password JDM or TRS stem we got it here
PDF files for Instructions and Ruckus Supplement instructions
DOWNLOAD TRAIL TECH SPEEDOMETER PDF INSTRUCTIONS