Swap your stock Ruckus Light with this Smoked Taillight with Integrated Blinkers.
Comes with Hardware and Mounting Bracket in USA Stainless Steel NOT Chinese
You may need in line load equalizer for turn signals to flash.
LED light color: Taillight is red, turn signals are amber
Voltage: 12V
Lens Color: Smoke
Dimension:  6.5 x 3.3 x 1.3inch /16.5 cm x 5.1 cm x 4cm (W x H x D)
Fitment: Honda Ruckus / Zoomer all years.
*Wire modification required on scooter/light. This unit is for a R6 the plug needs to be cut or use wire taps to work on your ruckus.  Unit will not flash without flasher. If you get this, you may need a LED RELAY FLASHER or 1 SET of INLINE RESISTOR for the LED blinkers to work. 1 or the other but not both.
HONDA Ruckus OEM wiring to R6 Wires
OEM Orange wire to R6 Yellow Wire = Right Blinker
OEM Light Blue Wire to R6 Blue Wire = Left Blinker
OEM Green/Black Wire to R6 black Wire = Ground
OEM Black/Brown Wire to R6 White Wire = Running light
OEM Green/Yellow Wire to R6 Red Wire  = Brake light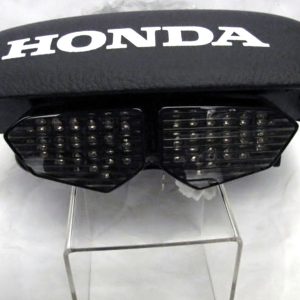 Electrical items are non-returnable, please check photos and specifications before ordering. Please see our Warranty & Return Policy.