Removing the OEM front frame plastics can really leave your Honda Ruckus looking bare. Well, TRS comes to the rescue with their Honda Ruckus Front Frame Cover. Cut out of solid 6061-T6 billet Aluminum not just a cheap flimsy 16-gauge plate other have on the market.  These covers are attractive and fit with a perfect fit. It also helps clean up the front end by closing up one of the noticeable gaps in the cast Ruckus front frame, allowing you to do a clean wire tuck. Since it fits flush, it provides a clean look to the Honda Ruckus front frame and looks like it was intended to be there by Honda! Clean up the look of your front frame with the TRS Honda Ruckus Front Frame Cover. You can paint, polish, powder coat, or just leave raw.
THESE ARE 6061-T6 BILLET AIRCRAFT ALUMINUM 1/4″ THICK AND MILLED. FITS PERFECT. NOT SOME THIN PIECE OF ALUMINUM FOIL LIKE COVER.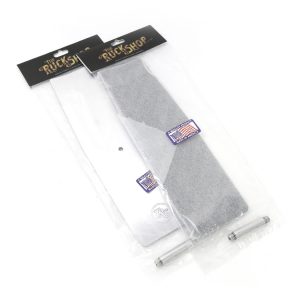 Available in Raw or Gloss Powder coated Black
COMES WITH ALL STAINLESS HARDWARE. MADE IN AMERICA
*Front frame not included.