This is the baddest speedo in the business. This KOSO gauge covers more than any we have seen on the market:
Kit includes:
SPEEDOMETER
ODOMETER
TRIP A-B
HOUR METER
OIL MAINTENANCE
HOUR METERA-B
MAX SPEED RECORD
AVERAGE SPEED RECORD
TIRE CIRCUMFERENCE
FUEL METER (MUST USE HONDA METROPOLITAN FUEL SENDING UNIT)
INSUFFICIENT FUEL WARNING
VOLTMETER
VOLT METER WARNING
EFFECTIVE VOLTAGE
EFFECTIVE TEMP RANGE
BLINKER INDICATOR LIGHT
HIGH BEAM LIGHT INDICATOR
THIS KIT HAS A 7/8 HANDLEBAR MOUNT INCLUDED.
IN ORDER TO USE THE FUEL GAUGE YOU WILL NEED THE HONDA METROPOLITAIN FUEL SENDING UNIT BELOW IN RELATED ITEMS
WE ALSO MAKE A VERY CLEAN KOSO HANDLEBAR STEM WORK ON OUR AND PASSWORD JDM STEM. IF YOU ALREADY HAVE A TRS STEM THAT WILL HOLD THIS AND KEEP YOUR HANDLEBARS WITH A CLEAN LOOK THAT WILL BE BELOW AS WELL IN THE RELATED ITEMS.
Here's where we put the bracket. We painted ours black and it's on a 2 piston caliper your location my vary depending on caliper. Pick up must be close to magnet. If you are not getting MPH flip magnet over.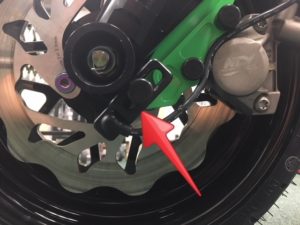 Notice how close pick up is to rotor, make sure pick up aligns with magnet. Pic is rotated for better viewing.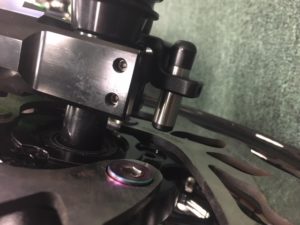 Don't want to mess with Calibrating or Wires Koso Makes a GPS Speed Converter found HERE
Wiring diagram on a 49CC Honda Ruckus.
KOSO           49cc OEM Wiring
Orange —— Orange ( Left Blinker)
Blue———–Light Blue ( Right Blinker)
Yellow———Blue on headlight harness (High Beam Indicator)
Green———Yellow Wire on Met Fuel Sending Unit (fuel level)
Red———–positive terminal on Battery (Power)
Brown———Red/Green tracer on black relay (keyed power 12V)
Black———Ground on battery
Speed sensor connector —–plug into KOSO
Gray———- gets plugged into OEM high temp light positive on OEM speedo
Purple ——- neg on coil NOT used can set maintenance off odometer.
White ——NOT USED
Have our TRS Billet Handlebars ?
Ruckus Adjustable Billet CNC Handlebar with Clip on bars MADE IN USA
We have a Mount for this speedo now