Honda Ruckus low sitting rear shock. Drop that Ruckus down to even lower and be the most slammed Ruck on your block with this black on black rear shock.
Top=Eye Bottom=Clevis
235mm, eye to clevis
See difference in picture compared to NCY Regular shock.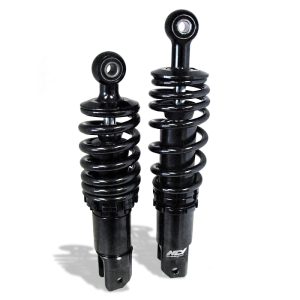 Must have a stretch with a shock arm extension for the top of the shock to fit under the frame.
If you have no stretch and looking for just a stiffer shock then check out the Forsa shock.