The TRS FORWARD FOOTREST is a great addition to your ruckus for that extra leg room. Great for riders who are taller or want another leg position. Attaches to side of frame.
Powdered Gloss Black or Raw Steel and includes stainless hardware
Footpegs not included. Order our SMF V1 pegs, SMF V2 Pegs or use your own.
Hard anodized billet spacers are available for those running stock floorboards OR for bigger feet.
MADE FROM AMERICAN STEEL NO CHINESE RECYCLED SOFT METAL.  POWDER COATED HERE IN AMERICA
If you are looking for just the spacers, please pick SPACERS only on the drop down. They will come with 2 spacers and 2 longer bolts. You will re-use you nut
Peg legs installed with pegs and No spacers. New SMF pegs are smaller than old ones for more ground clearance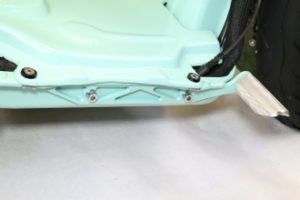 Peg legs installed with spacers and pegs for running stock floor boards. New SMF pegs are smaller than Old ones for more ground clearance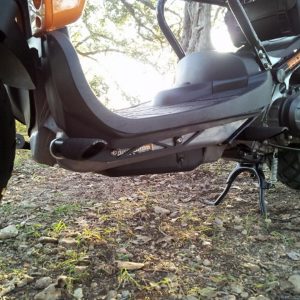 Installation : See pictures below
Remove floor boards
Line up Peg legs to your position (pic shows best) mark with marker
Drill Small Pilot hole or use drill punch then drill for M8 Bolt (7/16 Drill)
Line up and insert bolts and on other side there's a channel on the frame. Lift tank and use flanged nuts to bolt up.
Do the other side.