Everyone love Carbon Fiber. You want something no ones else has? Introducing TRS 100% Carbon Fiber rear Ruckus Spoiler. Our spoilers are made here in USA and vacuumed infused using the same technology as F1 cars. There are NOT fiberglass with 1 sheet of Carbon. See pics of front and back.
We know everyone wants super glossy so we spray with them with a UV Protection Clear Coat, wet sanded and Buff to a high shine.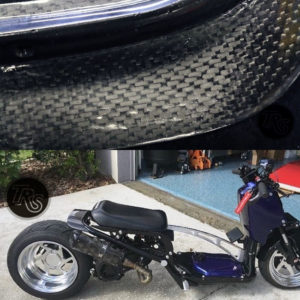 Only 5 made this go around. Spoiler attached to shaved rear frame with (1 screw and Black RTV NOT INCLUDED) Super Strong have withstood a crash with no cracks to spoiler.
This parts matches both in finish and twill of our other Carbon parts line: