This will be a long blog on how we started and why. I remember back in 2008-2009 when I owned a motorcycle dealership in Florida. We mainly serviced Harley-Davidsons and Honda Goldwing due to the older population. My wife and I every year go to Saint Augustine for our Anniversary and after 10 years we thought we had seen everything in Saint Augustine. My wife asks if we could rent a scooter. I told her, "I ride a Harley I'm not getting on a stupid scooter!" Well as many know happy wife happy life as they say. So, I rented a scooter for the day. We had so much fun on it, seeing places in alleys, taking back roads, looking at all the off-beat paths. We didn't have to drive around looking for a parking spot for a car we just parked where there was room for a scooter. After grabbing a couple of frozen drinks at our local grocery store and threw them in our backpack we went to the beach and the best part was not one time did we have to put gas in this scooter.  We had a blast.
2 weeks Later
A lady comes into my dealership asking if we could work on her scooter as it was not running and only had 300 miles on it but had sat for a year. I knew it just needed a carb clean and told her to bring it in. Next day she arrives with something I had never seen before, a 2008 Metallic Silver Honda Ruckus bone stock. I thought back to the fun times 2 weeks before. To my surprise, she said she wanted to get it ready and running so she could sell it. I asked her how much and she said just subtract the bill from $1800 and it could be mine.  A deal was struck, and I was the new owner of a Honda Ruckus. I immediately Googled Honda Ruckus and found pictures of people in Japan putting Lawn Mower tires on the rear wheel. Only 2 companies were around. Password JDM had 3 parts for the Honda Ruckus. A Smoked Acrylic Radiator cover, clear CVT cover, and a 6.5 Inch stretch kit. I immediately bought all 3. Found another company in LA called BOWLS that was a boutique clothing store that looked like they had a couple of guys who also had parts but most of their stuff was sold out. As I waited for parts to arrive I just looked at what people were doing to this Honda Ruckus also called a Honda Zoomer in Japan.  When the parts came I installed them and looked at pictures online from Japan and lowered the stock seat. This is before you could buy one. Removed the handlebars and built our own stem for some dirt bike bars to work.  It was ready to go for a ride and I was hooked.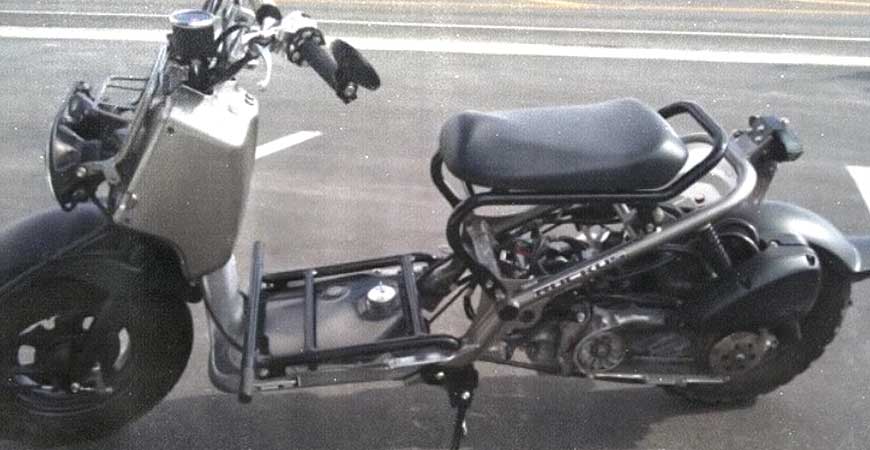 This is one of the earliest pictures I still have, and was probably 1 year after I had bought it. I made an R6 taillight bracket from a real $200 R6 taillight. Password JDM CVT cover, Password JDM Kickstand, pretty much see-through Carbon Fiber Tank cover which was poor quality, but I thought at the time it looked sweet and it was the most expensive part I has bought. You can see the Pro Taper bars, Metal Mulisha skull grip rings, some bar-end mirrors from another bike, clear luggage tray cover, and I think I took this picture because Yoshimura just came out with a Tank cover with built in forward foot pegs. No password pegs were available at this and we cut the bottom of a stock handlebar and holder for speedo and welded it to the Pro-Taper bars. No aftermarket engine parts were available, I had everything one could get for a Honda Ruckus or so I thought.  I would take this to our local bike Music and Motorcycles event since it was across the street from my dealership and immediately I would get asked lots of questions.  So began the journey.