Welcome back to another burnout bobby blog! This one is how it all started for me. This is what drew me in and took over my life in a great way that I would have never expected or dreamed of.  Let's dive right into it and start by saying it all began for me back in 2012 when I was living in Connecticut and was very big into the drag racing scene. I had a car I was racing at the track, and I had lots of friends that did the same. You could say my second home was at the dragstrip. I was at an event in Englishtown NJ one weekend helping my friend Jay with his car at the track and then a mutual friend Chris pulled up on this scooter on steroids! I was like "what is that beautiful piece of machinery you are riding on?!?!?"  He said it's a Honda Ruckus. I have never heard of such a thing, nor have I ever noticed one in Connecticut at that time.  From that event on I knew my wallet was about to get even lighter because I had to have one.
For weeks I searched Craigslist, Facebook, or anywhere I could to find a used Ruckus in my area.  There was nothing in the State of Connecticut that I could find. I then looked at dealerships and boom! A white Ruckus with a red seat and it was 2013 with zero miles.  I drove to the dealership the next morning and picked it up.  Once I got home, I took that stock bike around the block so many times and had a smile from ear to ear. This was the most fun vehicle that I owned. That night I was searching the web for parts to make this thing look as cool as my buddies. I found a shop called Password JDM and decided to order a few parts from them. After a few weeks, parts came in and I was ready to install. I realized how easy this was to work on over my cars and that probably made my spending a little worse ha-ha. I wanted ruck apparel one night and that's how I stumbled on The Ruck Shop's website. I couldn't believe all the parts they had and the cool " I Ruck on the First Date" shirt. So of course, I ordered it and 2 days later it was on my porch.  I couldn't believe how fast it got to me from Florida. Again, this made my spending habit worse as I now know parts can get here faster than 3 weeks.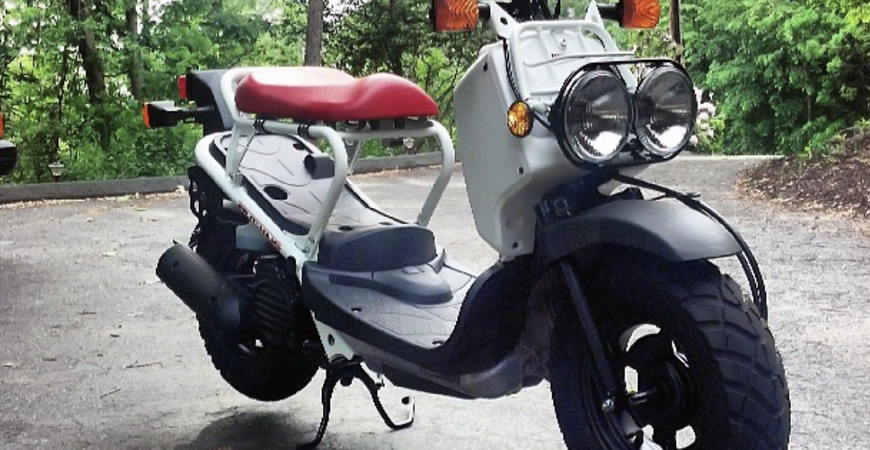 I then got into stretching the bike and putting on intake, exhaust, CDI. I wanted this thing to do 50mph. I was cruising home from work one afternoon and while sitting at a light I saw a Ruckus go flying by me. I had never seen another in my state, so I ran the red light and chased him down. His bike looked like it was out of the Tron movie or the Batman bike.  I said what size stretch is that? He replied it's the ruck shops fatty stretch with a 12×8 wheel.  Now at this time, I thought I was the business with a 6.5 stretch and 10×5 mini fatty…. Not until this guy shows up and rains on my parade. So, in classic fashion, I go online when I get home and order the fatty mount, wheel, and tire.  Once those were on the bike, I felt like I was back on top of the charts. I was searching Honda Ruckus on Instagram when I came across the Eat Sleep Race's Ruckus and then again it put me back in my place. After about 15 minutes of thinking about what I should do with this bike, I decided its time to pull the trigger on the GY6 swap.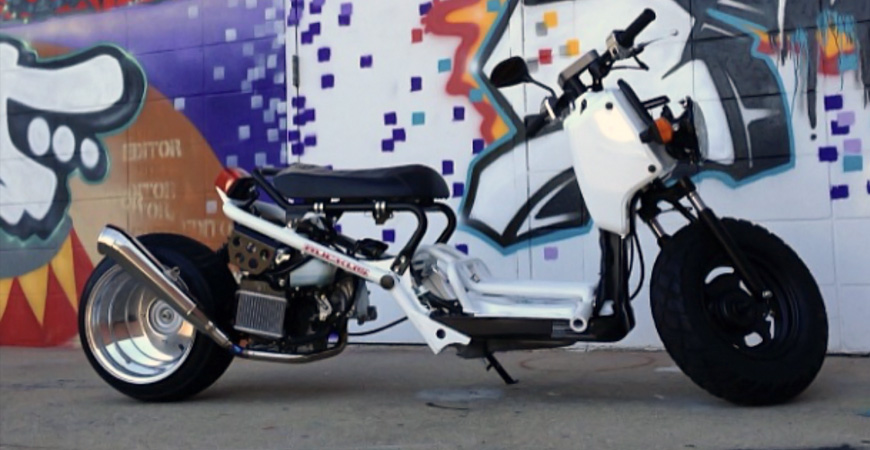 Here I was with what was only a stock bike for about 3 weeks and now it is all stripped apart after already doing 6.5 stretch, 12.5 GET stretch and now Gy6 swap. Not once did I ever question my sanity nor why I was this deep into a scooter. It was about December or January when I had the bike in pieces in my basement waiting on powder and paint to be done. (It was in the basement because it was about 10 degrees out and the garage was freezing to work in). Parts arrived back to me within a week, and it was assembly time! Now there were no how-to videos, no install videos or Ruckus build series on YouTube at this time so it was all common sense or trial and error.  Luckily throughout the past months, I found a group of guys that were across the state called project ruck. Between my endless calls to Kevin, the owner of The Ruck Shop, and these guys helping me I had the bike finished and ready to ride by February. Once the weather hit 45-50degrees outside I decided to take it for a shake-down ride. It was wide open the whole time and couldn't believe how it felt like I was on the street bike of scooters. This thing felt insanely fast! I called up Kevin at The Ruck Shop and thanked him for all the help and parts he had sent my way to make this dream come true.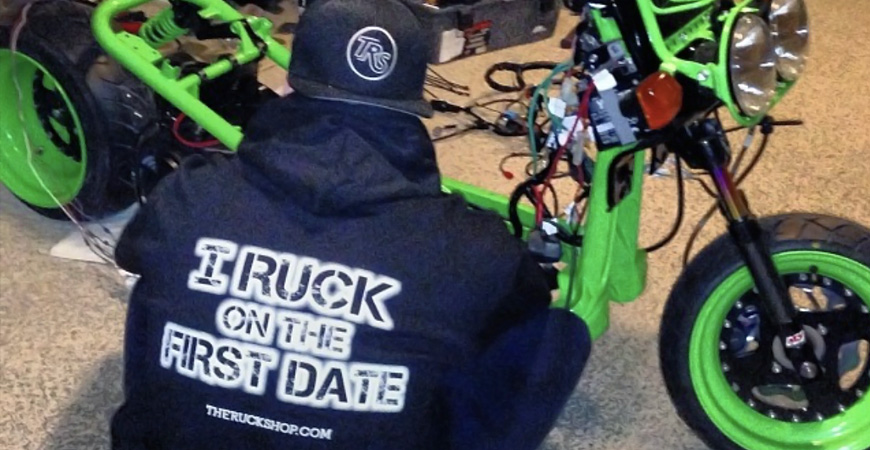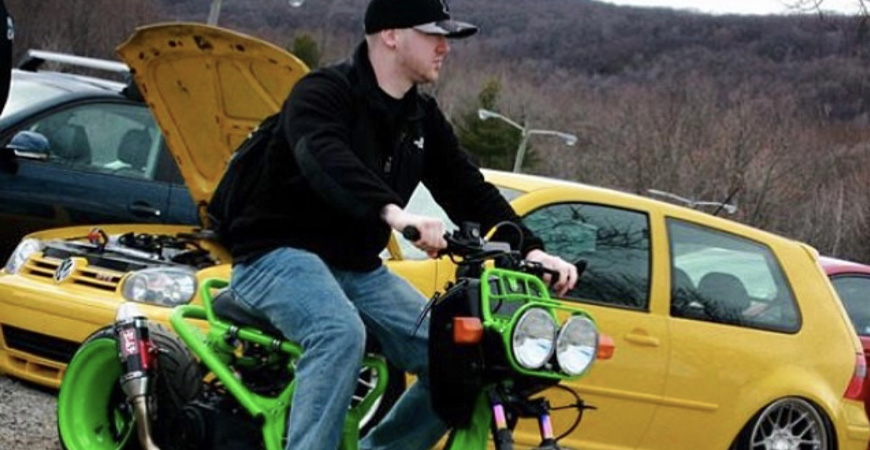 It was about May now and I was 3 months in on my new promotion to third Shift Supervisor at the Psych hospital I was working at. The money was great, but the job took a toll on you. Basically, we were Correction Officers at this facility. I was getting tired of my day-to-day life at this job and how it was not for me anymore. I shot Kevin a message and said what is the job force like down in Florida? Are there any good jobs open down there you know of? He asked what I was looking for and I said really anything that will make me change my mind about working here any longer. That's when he said it…" you want to come work for me?" I couldn't believe it! Did the owner of The Ruck Shop just offer me a job from across the country?! I said really? I would love to! We talked it out and I flew down to check out apartments, check out the shop, and meet Kevin. I was there for about 3 days and took down lots of information on if I was going to make this life change. I told Kevin I needed a few weeks to think this over as this was a big move for me. He said take your time and within about a week I said "okay, I'll take the job!"  I started August 12, 2014, and have now been here for 7 years with The Ruck Shop. I started at the shop just taking phone calls and learning about all the parts as well as overseeing a part-time employee in the shipping dept.  I then was promoted to head of purchasing here soon followed by Shop Manager which is where I am still to this day. I know lots of you think I'm the owner but I can assure you I'm not ha-ha! When I started, we had 2 full-time employees and a 1,000sqft shop to now we have 10 full-time employees and a 10,000sqft facility. So, you can say my responsibilities have grown along with the shop. We now ship close to 200 orders a day on average, answer an average of 120 calls a shift, and answer 300 plus emails a day. The growth has been amazing with this business, and we intend to only keep growing.
The amount of support, love, friendships started because of the scooter, this shop, this community is beyond imaginable. I would never have predicted that my life would change as it did from one little bike. I cannot thank Kevin at The Ruck Shop enough for seeing something in me and knowing I was right for his company. He gave me this chance to change my life and help change others along the way.  It is not often that you can say you wake up every morning and love what you do. I do this job 24hrs a day 7 days a week just to keep the Tech Support going and spread help at all hours of the day. I hope you all enjoyed this life story of mine and keep an eye out for more of these blogs.