Got a GY6 and ever wonder if the battery is charging. Don't get caught stranded. Know for sure what the charging system is putting out. Your scooter should be 12.8v to 14.0V when cruising.
It works for 12V-24V.Mini size and easy to install, work great for checking Voltage.

Twist-and-Lock system. Display: 3-bits, LED digital tube, lamp display is blue

Mounts in a 1-1/8″ hole in panels up ,0.25″ thick, a nylon retaining nut holds the meter in place.

Space is 1.4-inch x 1.4 inch.



Although we do not recommend this but as you can see the meter is indeed still working submerged in water showing
6v on a dead battery.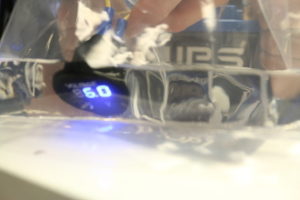 Please see our Warranty & Returns Policy.