Fender Eliminator for Honda Grom 2022 and up
You got a new 2022 and up Honda Grom. Now, the first thing you want to do with a new bike is ditch the massive stock fender. This fender eliminator kit solves that problem, while providing 2 options for license plate location.  This work perfect in conjunction with our Integrated Tail light . Here's instructions for 2022 Grom taillight with the Fender Mount. CLICK HERE
Comes in Powder Coated GLOSS BLACK with all Stainless Hardware, Billet pacers for OEM Cowl, and Anodized M8 beauty washers. ALL parts made in USA.
NON U.S. BUYERS: Our bracket is designed for U.S. plates and fits a hole spacing of 5.09 to 6.16 inches with 5mm hardware. It is your responsibility to verify fitment before making your purchase.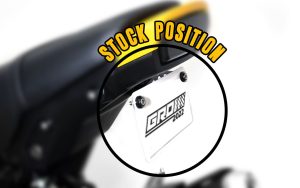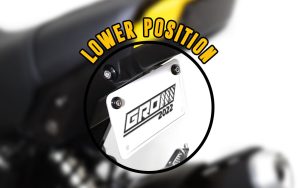 Applications:
Honda Grom | 2022
See pictures for where bolts go. CLICK HERE FOR 2022 Instruction  of integrated Taillight page 5 shows where spacers go for Fender Eliminator.
M6 bolt and M6 nuts hold license plate to body
M8 Longer bolts go forward side of rear cowl
M8 shorter bolts to towards rear
See instructions on where spacers go
Customer to use existing license plate bolts to hanger