TRS Ruckus / Zoomer  (Non-EFI) Long Distance Gas Tank.
Sick of filling up your Ruckus every other day? Do you have an engine swap and need extra fuel capacity? TRS has the solution for you! This product has been off the market for over 6 years, but we brought it back, and we have perfected it. OUR tank allows you to bolt up your Stock OEM Honda Ruckus Fuel Pump or if you have a GY6 swap you can bolt up a Mikuni Fuel with our Type 1 Coil! NO more making your own bracket.  Our aluminum long distance fuel tank has a 2.5-gallon capacity which is more than double the factory tanks capacity with 2 internal baffles!
Complete bolt on installation, uses factory fuel pump, pressure tested, lines, gas cap, and cap is clocked the correct way.
As with all TRS Products, our extended fuel tank is manufactured in house, hand TIG welded, leak tested and proudly in the USA!
Kit includes:
Extended Tank
3 Feet of Fuel Line
2 x SS M6x12mm Bolts (these are only for Stock OEM fuel Pump)
2 x SS M6X16mm (For Mukuni Fuel Pump) Mounting
2 x SS M6x25mm and 2 spacers for Gy6 Type 1 Coil Mounting
4 x SS M6 Washers
4x  Beauty Washers with SS flat head bolts and nuts
We are offering the TRS extended Tank in RAW 6061-t6 aluminum (Will have small scratches on metal these are meant to be painted, powder-coated, polished, or sanded.  

THIS WILL NOT WORK WITH THE TRS FRAME BRACE AS IT DOES NOT CLEAR.
Shown Below is with GY6 Swap Mikuni Fuel pump and coil bracket.
 COIL, FUEL PUMPS OR GAS CAP ARE NOT INCLUDED. MUST USE OEM GAS CAP YOU CAN USE EITHER
PASSWORD CAP COVER
OR
REVOLVER CAP
. WILL NOT WORK WITH OUR BOTTLE CAP GAS CAP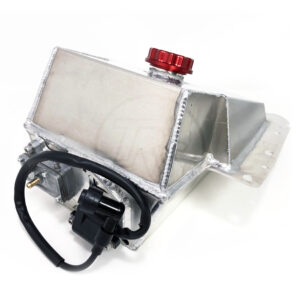 Bracket built in for GY6 swap with Mikuni Fuel Pump and Type 1 coil
Shown below with OEM Honda Ruckus Fuel Pump, OEM FUEL PUMP OR GAS CAP ARE NOT INCLUDED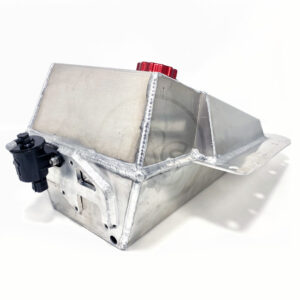 NOTE: In order to use the TRS Ruckus Long Distance Gas Tank, you must have an Engine Extension Kit Installed! Looking for a Aftermarket Tank or is your OEM rusted out. We have Flat Top tanks CLICK HERE