Our LED Tri-bar is almost plug and play no Relays needed, comes with all the fittings and fuse block.  Unlike others ours works with all Grom years. SF will not use or coming with spacers for headlights. Finished off with Billet washers and Stainless steel hardware. Comes in Raw or Anodized black
TRS Grom Headlight bracket with 4 options. Lights will come installed with plug and ready to wire into Grom (instructions provided). Turn Signals must be eliminated or relocated to faring as seen in picture above.
OPTIONS:
1 LED BAR MIDDLE LED WITH BILLET BAR ABOVE AND BELOW ONLY 1 BEAM
2 LED BARS (2 LED LIGHTS TOP AND BOTTOM MIDDLE ROW BAR) LOW BEAM TOP / HI-BEAM BOTH LIGHTS
3 LED BARS (3 LED LIGHTS) LOW BEAM MIDDLE LIGHT ONLY / HI-BEAM TOP AND BOTTOM ONLY * We do not recommend all 3 lights running as the Grom charging system can not handle the draw.
BRACKET KIT ONLY* (COMES ONLY WITH BRACKETS, (2)SPACERS, 4(BOLTS) AND WASHERS ONLY. SEE PIC)

NO INSTRUCTIONS, NO TECH SUPPORT, NO WIRING, NO BOLTS AND SPACERS FOR LED BARS SINCE WE DO NOT KNOW WHAT LIGHTS YOU WILL BE USING.
LED Bars need to wired 12v DC AND will come pre-wired with a clip and instructions. Installed below on OG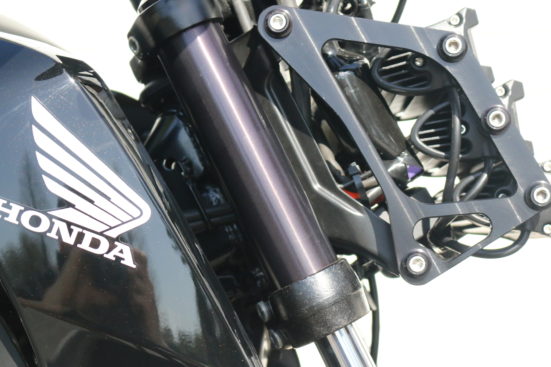 Installed below on SF grom (lights are not yellow It's a reflection)   NOTE: SF must have light bars loose first tighten to Grom then tighten lights to position desired.
Light Specs
CREE LED LIGHT
Power: 30W
Working Voltage: 10-45V DCLEDs:
6pcs * 5W High Intensity Cree LED
Lifespan: 50,000 Hours
Lumens: 3000
Color: 6000K
Optics: Spot Beam
Dimensions: 6″ Single Row
Material: Superior Military Grade Die-Cast Aluminum Housing with Heat Sink Extrusion and Polycarbonate Lens
CE Approved
RoHS Compliant Waterproof Rate: IP67.
Electrical items are non-returnable, please check photos and specifications before ordering.
Please see our Warranty & Returns Policy.