Complete Bolt-in stretch Kit for Honda Grom / MSX125 with chain and chain breaker tool. All of the brackets for this kit are Billet Aluminum 6061-T6 to match the quality and awesomeness of the rest of the kit… even the little Spanner wrench that is included for adjustments! Made right here in the USA. Stop paying high prices for the same product when you can get more for your money.
This stretch is adjustable from a 4″ to 6″ stretch (/- .5″ depending on chain tension) Completely bolt-in… Our Kit even comes with an 420×132 length chain with greater tensile stretch than the stock chain We also include the chain breaker tool.   We don't nickel and dime you get the all the parts needed the first time.  ADD TRS Billet Stopper Spacers now for and save $6. Tighten pinch bolts to 16 ft/lbs. up to 18
Optional Rear Lowering Link Available in either 2.5″ or 4.5″ heights see below related items. Lost your tool that comes with the kit? We got it below in related items.
Installed pic with 4.5 lowering link
THESE WILL NOT FIT 2022 Model . HERE is KIT FOR 2022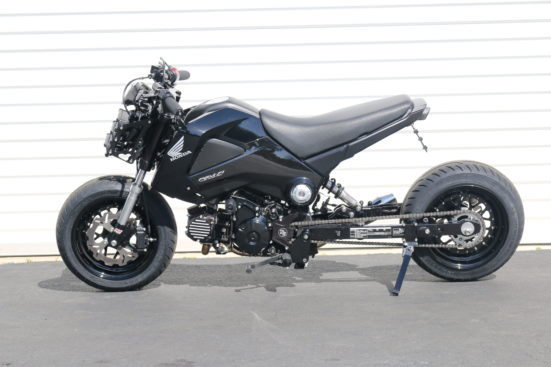 Looking for replacement chain that comes in our Stretch kit ? Find EK replacement chain here