We know how you like those Custom Shaved frames. We did all the work for you. Our Custom Ruckus seat frame starts off as a Brand New OEM Ruckus Rear frame and then we go to work on it. Each frame has extensive labor hours to get the final look.
All un-necessary tabs are shaved and smoothed out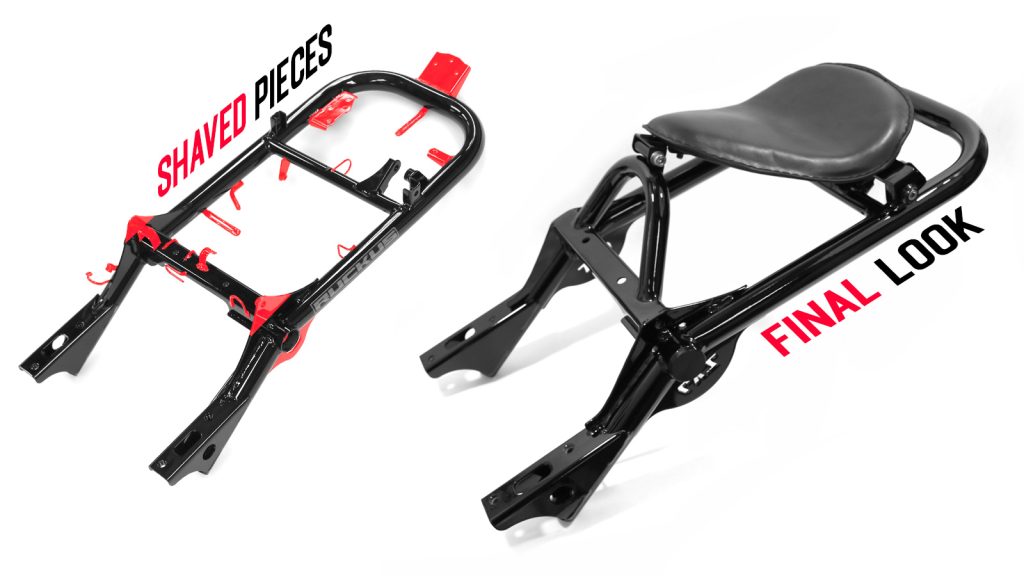 Rear tail section Inner sleeved, bobbed (rear frame was cut and shortened behind the rear seat frame tab), TIG welded and smoothed out
Shaved Rear Tail light tab
Custom Solo Seat frame and Seat as seen on Burnout Bobby's Youtube
TIG Welded TRS Frame Gussets on Both sides
TIG Welded Frame
Billet Frame caps
Stainless hardware
Billet Bolt washers
Comes in Assembled Gloss Black or Raw and is Ready for your own powder coat.
*Must you your own tail light such as our All in One Z flex Taillight 
THESE ARE NOT FOR GET 49CC MUST HAVE GY6 SWAP SINCE BUSHINGS ARE PRESSED OUT AND THE COOLANT TAB IS REMOVED.