Another Ruck Shop First. Here it is. Everything you need to eliminate your stock Honda/Metropolitan air box with the most popular parts.
When you remove your stock air box you will need to re-jet the carburetor. We recommend you add a performance exhaust at the same time so you are only tuning your carburetor once.
Kit includes:
Cone Mesh Emgo Air Filter
Intake tube with pvc fitting to attach filter.
Uni Push style Air Filter for side of carburetor.
85 Main jet
38 SLOW JET
Small washer to shim the Needle on the Carburetor.
*Jetting may vary depending on altitude, climate, exhaust, type of gas, & other mods.
These are the main parts you may need to increase or lower 1 or both of your jet sizes.
Some Mechanical Knowledge Required.
ONLY 1 SMALL FILTER IS REQUIRED YOU DO NOT NEED 3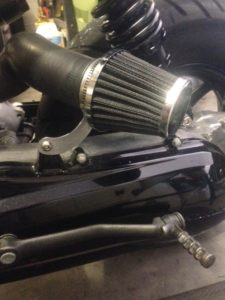 Add the intake bracket for a clean look. It replaces the PVC coupler we include.
You will need to block off your REED AKA PAR or PAIR VALVE with a cap or plug. We Now offer a BLOCK OFF PLATE instead of using a bolt or cap. Make it look nice. Add the PAR REED BLOCK OFF to complete your kit.
Click on above picture to add BLOCK OFF OF YOUR CHOICE.

INSTALLATION
VIDEO ON JETTING AND SHIM

HOW TO SHIM NEEDLE

HOW TO JET RUCKUS CARB
VIDEO YOUTUBE LINK FROM PLANETRUCKUS
HOW TO ADJUST AIR MIXTURE SCREW (YOU SHOULDN'T NEED TO MESS WITH THIS)