So, you got a Honda Ruckus and want to make it go faster but see all this stuff on the internet and don't know what to get. Well rest assured we got you covered. After many years of test and tuning, trying different parts, and years of selling Honda Ruckus Parts we have put together the only KIT that matters and has been tested over and over and still yields the best results. You want 50 MPH out of your 49cc. This is the kit. NO need for aftermarket clutch, clutch springs, big carbs, Cam or BBK. We have seen guys running in the upper 50's and even some 60 MPH with the STAGE 2 kit, new drive face, new belt and oil. may need tuning with variator weights depending on rider's weight. This kit will work on all years of the ruckus and from 2003-2009 for the met.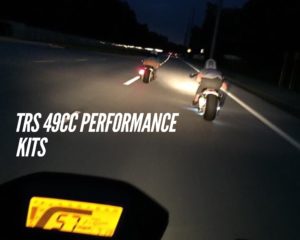 Stage 1 includes: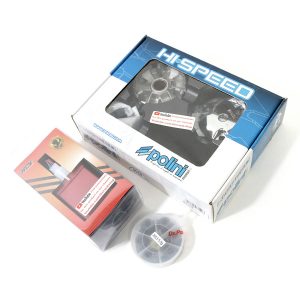 This is usually the first modification everyone does to get a little more speed.
Stage 2 includes: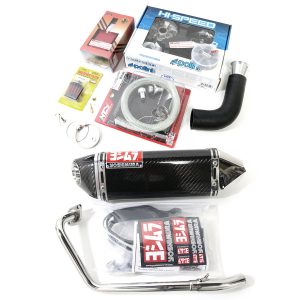 Stage2 With Carbon Yoshimura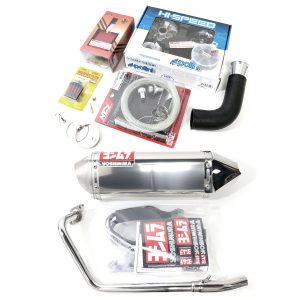 Stage2 With Stainless Yoshimura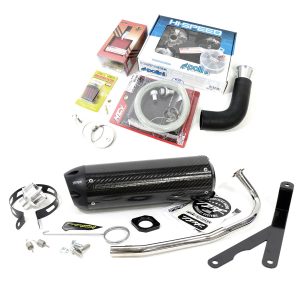 Stage 2 with Two Brothers Carbon Exhaust
Intake kit comes with jets and should always be done with Exhaust together. No sense in re-jetting again. Do it all at once.
It's a good idea to get a new CVT belt if yours is old or has more than 2000 miles, change the oil and put no more than .6L  (2.53 cups) of 10/40 and if your OEM drive face is worn you may need to get a new one. You purchase these parts below under the related items.
Disclaimer:
TRS makes no guarantee that your 49cc will run 50 MPH especially if the rider's weight is above 200 lbs. We have this kit on our personal WELL-MAINTAINED ruckus and go 55 MPH with a 200-pound rider. Riders under 200 Lbs. have reached up to 60 mph tucked over a 2-mile flat stretch at sea-level. Every 49cc Scooter is different and results will vary.  All parts should be installed by a trained motorcycle technician but have included YouTube videos below for someone that is mechanically inclined. TRS makes no warranties, implied or otherwise towards the performance of these kits.
We tried many velocity intakes and final got a good design which are made in house from 6061 Billet.

TVR INTAKE INSTALLATION

HOW TO SHIM NEEDLE

HOW TO JET RUCKUS CARB

DOWNLOAD CDI INSTRUCTIONS HERE
<
Here's a customer's review of our Stage 1 Kit. He purchased this kit. We did not sponsor him, and this review is not a paid advertisement, just a customer who bought it and installed it and gave his opinion. We found this video and asked if we could add it to our site.
Same customer had feedback, and everyone wanted him to go faster so he got the Stage 2 kit.  Here's his video on Stage 2. We have been selling this kit for over 7 years.

The product that you are purchasing is designed and intended for closed course competition use only and is labeled as such, i.e., Yoshimura "RACE SERIES." Yoshimura RACE SERIES, Carburetors, Intakes, Exhaust, or any other performance products are neither designed nor intended for use on PUBLIC ROADS or LAND. Such use is prohibited by Federal and State regulations. By Placing order and agreeing to the Terms and Conditions at CHECK OUT you acknowledge that the item being purchased is for racing only and this vehicle will never be used on public roads or land.